With more than 60+ malls, including the world's second largest mall by lease area, along with multiple retail shops & markets spawned across the city, Dubai is a haven for tourists and is a shopper's delight. The Emirate, which has long stood by the philosophy of "If you build it, they will come", has become a popular global tourist destination attracting more than 12 Million+ visitors each year! Until recently, you could find multiple tourists from across the globe at any of Dubai's popular landmarks, malls and shops. But then, in early 2020, the world was hit by the COVID-19 pandemic. What followed were global lockdowns and curfews with various public space restrictions to limit the exposure to the novel coronavirus. Dubai saw movement restrictions and the initiation of the National Sterilization Programme. Over the next few months, retail businesses saw their footfalls decrease tremendously and with eventual caps of 30% - 50% capacity restrictions, many businesses found themselves in a completely unprecedented situation – one where a new strategy was desperately required for sustenance. So, what did most of these retail businesses do for business continuity? They prioritized and fast-tracked their digital transformation journey to ensure customers continue to have an uninterrupted access to their products.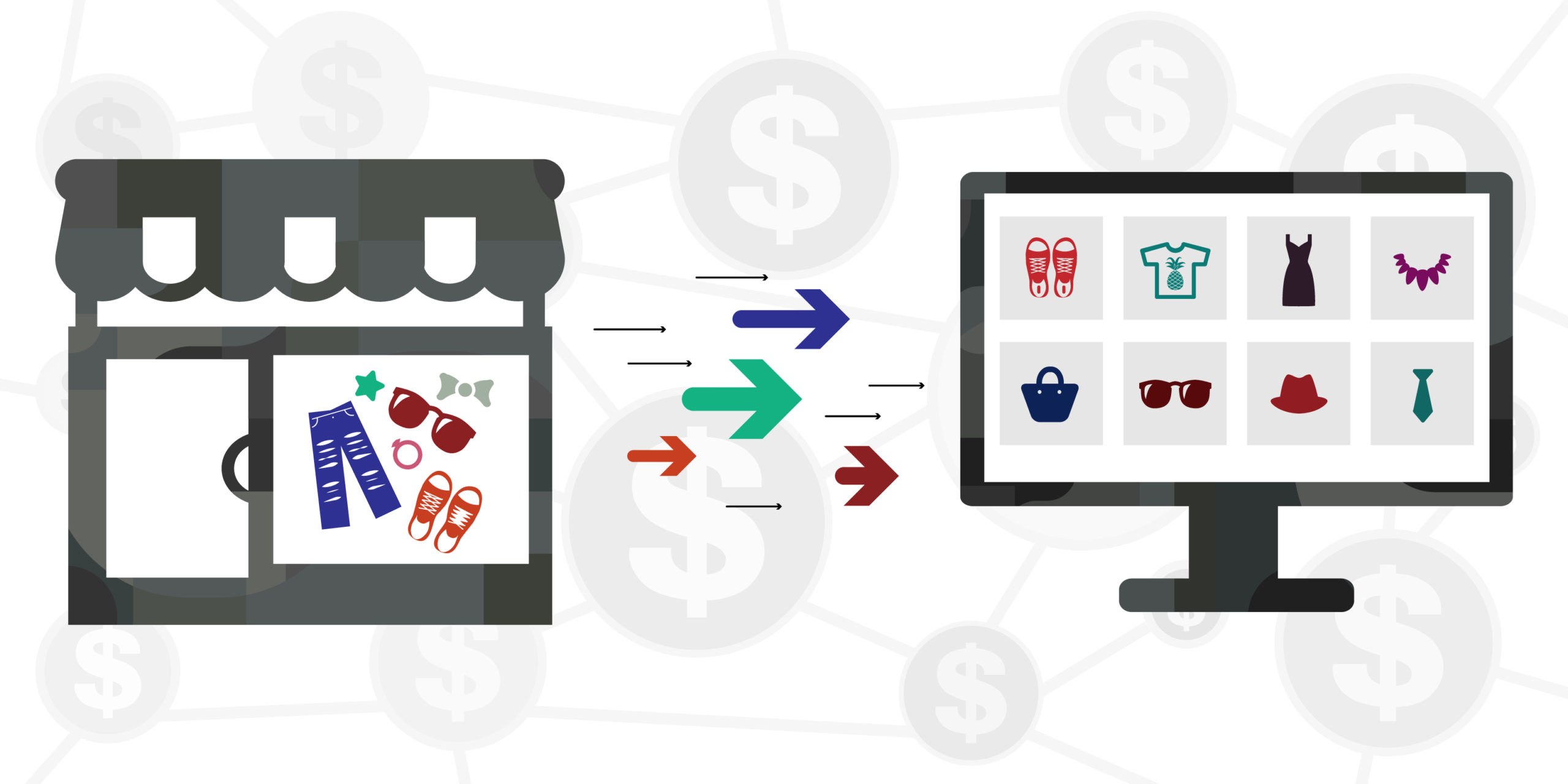 Retail to Etail
📌Case #1 small business - Sitara Diamonds:
In the good old days, Sitara Diamonds, a diamond retail business nestled in the sparkly bylanes of Dubai Gold Souk, flourished from an impeccable in-store experience that was provided to its customer base. Each day saw a new and returning flock of customers - residents and tourists - eager to buy precious diamond jewelry. But when COVID-19 hit, the five-year-old diamond business, that had previously enjoyed only a brick-and-mortar shop, now decided to establish an online presence as well – a website was setup and so were social media profiles on Instagram, LinkedIn & Facebook. The entire digital transformation journey was completed in under two weeks with an agenda to provide an alternative and safer route for potential clients to purchase their diamonds and to generate revenue for the business. Interestingly McKinsey & Company, earlier this year, shared insights on the luxury-goods sector during and after the pandemic with a recommendation on a sustained online presence: optimizing digital marketing & leveraging the e-commerce channel [1]. Sitara Diamonds has further strengthened its online presence and has conceptualized a long-term digital strategy to attract more online enquiries through educating potential customers on buying the correct type of diamonds whilst simplifying the buying process for them.
📌Case #2 large conglomerate - Carrefour UAE:
Carrefour, a French retail hypermarket giant, was introduced in GCC in 1995 by Majid Al Futtaim, exclusive franchisee in the region, and today has a presence across most of the Middle Eastern and African countries. Through its loyalty programmes and an insurmountable range of food and household items, it has nurtured a huge customer base across all strata of society. When the movement restrictions were in place, and after the panic-buying stage had surpassed, there was yet another factor that was keeping people indoors instead of stepping out for shopping – fear. Getting used to wearing masks, gloves, sanitizing hands and maintaining physical distance while stepping out for essential shopping took some time to get used to. Meanwhile, online orders for contactless grocery and food deliveries flourished; according to SEMRush's report earlier this year, searches for 'online grocery' jumped by 560% around the time the first COVID-19 case was announced in UAE[2].

Google Trends analysis for 'online grocery' & 'carrefour online' searches, 2020
In mid-April, Majid Al Futtaim capitalized on this opportunity and accelerated its digital transformation in line with the future of retail by announcing the launch of Carrefour Marketplace – an online platform for Carrefour and MAF's shopping mall tenants for safe and efficient delivery of their products.
This month MAF reported that from January to June [3], it saw a spike in online order across different countries:
📈KSA = 917%
📈UAE = 257%
📈Egypt = 747%
Suffice to say, today, the UAE Carrefour Marketplace is one of the largest e-commerce platforms in the region.
📌5 Reasons why your Retail Business also needs to be Online:
Taking cue from the above-mentioned two cases and from Dubai Future Foundation's report earlier this year stating that the UAE e-commerce industry is set to grow to US $63.8 Billion by 2023 [4], it's time your retail business also adds an etail business model.
Let's take the example of Sitara Diamonds to understand how your business can also benefit from an online presence:
#1 Business Continuity: In a hypothetical situation, had the internet not existed and the world was going through lockdowns and curfews due to the pandemic, Sitara Diamonds would have ceased operations. But with the option of setting up an online presence and engaging with customers through their social media profiles, Sitara Diamonds was able to ensure that their business continued uninterrupted even if customers couldn't visit their shop in person.
#2 Brand Building: With most of the humanity stuck indoors, Sitara Diamond's brick-and-mortar retail shop with no online presence during the pandemic would have lost brand awareness. But by setting up a website and social media profiles, they provided an alternate route for their customers to buy their jewelry thus building a sense of trust and confidence about the brand's commitment.
#3 Diversified Revenue Streams: With the shop shutters down and unable to entertain customers in person, Sitara Diamonds was bound to lose a lot of projected revenue. Through their eventual website and social media profiles, they have generated sales and added to their revenue which might otherwise have been written off this year.
#4 Larger Customer Base: Customers who had previously never stepped into Dubai Gold Souk are now aware of Sitara Diamonds through their social media marketing efforts. This awareness will attract potential customers to make inquiries and purchases from them. This opportunity would have been lost had they decided not to advertise online.
#5 Round-the-Clock Availability: The internet never sleeps and given the short memory of users browsing through their social media news-feed, it helps that they can message Sitara Diamonds anytime and receive a response as a priority as soon as they resume work. This way they don't lose any leads and also enhance the experience of their customers.
📌Wondering who can assist your business move Online? TASC can!
As your HR outsourcing and staffing partner, TASC can assist you with contract staffing or permanent recruitment services to ensure you build your e-commerce and digital team in a quick and efficient manner. TASC recruiters have the knack of finding the right talent in the right time so you can swiftly embark on your digital transformation journey and parallelly grow your web sales.
From executive digital professionals to digital marketing roles along with e-commerce operations, magento developers and e-commerce managers, we can fill multiple roles at a time while you benefit from reduced time-to-hire and cost-to-hire.
Build your online presence and they will come!
References:
McKinsey & Company, A perspective for the luxury-goods industry during – and after – coronavirus, 2020
Khaleej Times, UAE's Online Grocery sales searches jump 560% during COVID-19, 2020
CNBC, Online Grocery sales soaring in the Middle East trend may continue, 2020
Dubai Future Foundation, COVID-19 Future of Commerce, 2020