📞 Call transcript (part 1/3) of an enquiry we received this Monday:
Fulana AlFulaniyya, CHRO, M.U.G. Group: Hello, can I speak with someone from your team regarding our business needs?
Ines: Bonjour I'm Ines, Senior Sales Manager with TASC. How can I assist you?
Fulana AlFulaniyya, CHRO, M.U.G. Group: Great, hi! So, we are an FMCG business based in Garhoud (Dubai). And now we want to expand out into the GCC countries. There is a Jordanian national in our team whom we want to place as the Regional Sales Head in Saudi Arabia. We're not sure how we can go about this considering we don't have a trade license or an official commercial registration in Saudi…could you assist us with some advice, please?
Ines: Absolutely! You need help with PEO.
Fulana AlFulaniyya, CHRO, M.U.G. Group: Pee-ee-ohh? Hmmm, tell me more…
The above is a fictionalized chat between our PEO lead Ines Messaoudi and Ms. Fulana, a Chief Human Resources Officer (CHRO) for a Dubai-based FMCG business – let's call them M.U.G. Group - looking to deploy one of their key leaders in Saudi Arabia where they don't have a business presence as of yet. We receive similar enquiries daily which prompted us to clear the air on PEO by explaining how it fundamentally works and the various benefits it provides.
You must be wondering now, how does a PEO support in deploying the Regional Sales Head in Saudi Arabia without a branch or subsidiary of the M.U.G. Group?
So, let's look into what a PEO does – a Professional Employer Organization (PEO) is an entity that can support your business expansion into foreign territories without the need for you to go through the cumbersome process involved in investing capital and setting up a business from scratch. The PEO route is also quite popular with small and medium-sized businesses who are looking to locally outsource their HR, payroll and recruitment functions to a third-party firm.
Think of it as similar to hunting for accommodation when you're moving abroad: you always have the option of building your property (albeit quite a heavy initial investment), but there is also the alluring opportunity of staying put in a hotel apartment. This way you don't have to worry about housekeeping, buying furniture, paying electricity and internet bills and most importantly – having to wait for your paperwork to come through to have a roof over your head! The lump-sum payment made to the hotel apartment guarantees a comfortable stay with so many additional amenities in a place you can call home in a foreign country or for that matter, even in your own country.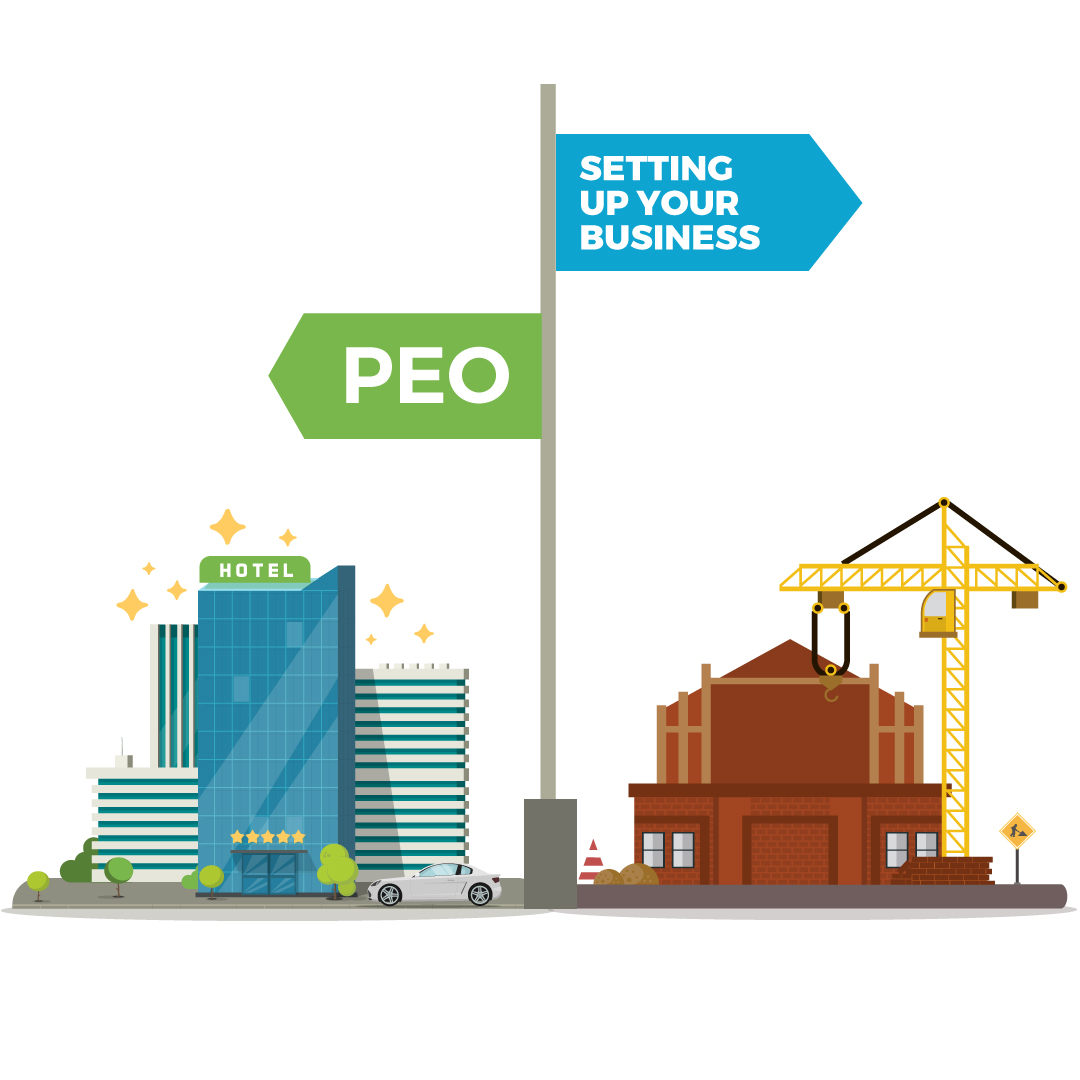 Similarly, a PEO helps your business gain rapid market entry into foreign geographies by undertaking the management of all the admin, HR, payroll, taxes, regulatory compliance and other paperwork for your employees so you can solely focus on the core of your business. As Lombardi & Ono (2008) explained, "PEOs operate in a co-employment relationship with their clients, by including the clients' workers on their own payrolls. In such a relationship, PEOs become employers of record for tax and insurance purposes. PEOs exercise some decision-making in HR management; at the same time, they share legal responsibilities as co-employers. By pooling the workers of its clients on its payroll, a PEO gains economies of scale in performing its required tasks."[1]
Now, let's take a look at the second part of their conversation...
📞 Call transcript (part 2/3) of an enquiry we received this Monday:
Fulana AlFulaniyya, CHRO, M.U.G. Group: Ah, I see. So, what you're saying is you will employ the candidate and sponsor him on your visa?
Ines: That's right. We will also manage his iqama, payroll, benefits, insurance and all other paperwork.
Fulana AlFulaniyya, CHRO, M.U.G. Group: And so, you will be his Employer of Record (EOR), right?
Ines: That's correct.
Fulana AlFulaniyya, CHRO, M.U.G. Group: But what about the scope and management of his work? Do you have a say in that too?
Ines: Absolutely not. The control and supervision of the employee remains with you. Let's look at this as a co-employment agreement where in exchange for a monthly service fee we provide the framework for the candidate to legally work in Saudi Arabia while you continue to manage his day-to-day activities.
Here we see that Ines explains how a PEO is basically a co-employment agreement where the employee is jointly managed by TASC as the PEO service provider and M.U.G. Group. We take care of the back-end-office work so our client M.U.G. Group can focus their efforts on what truly matters to their business; refer to the image below to see how the PEO business model works: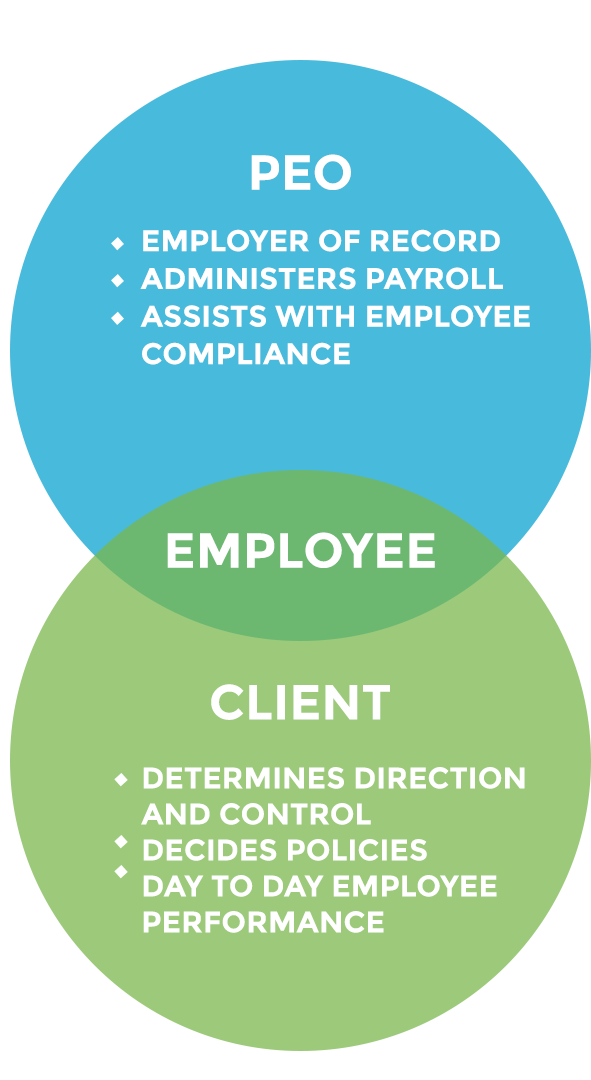 It's important to note that across the MENA region, PEO and Employer of Record, or EOR, are used interchangeably for third-party firms you can partner with for staffing needs in a foreign geography. And when it comes to local workforce requirements, although there are various similarities between a staffing/HR outsourcing firm and a PEO due to their involvement with leased employees, they can, at best, be considered as sisters and not as twins.
Coming back to the above conversation, for a monthly service fee, TASC's PEO can potentially support M.U.G. Group with:
Speedy market entry
M.U.G. Group doesn't have to wait to apply for a business license with the Ministry of Investment of Saudi Arabia (MISA) to initiate operations in Saudi Arabia.
Access to global talent
In the near future, if M.U.G. Group wishes to expand their team in Saudi Arabia, TASC can help in recruiting local or global candidates for their business.
Risk mitigation & compliance
TASC has the knowledge of Saudi labour laws and Saudization/nitaqat program as well as the capability to legally deploy the expatriate Regional Sales Head of M.U.G. Group on our iqama with a valid residency status.
Benefits & insurance
General Organization for Social Insurance (GOSI) contributions are paid by TASC for all Saudi, GCC and expat employees.
Health policies
While Saudi nationals receive free healthcare, TASC provides comprehensive health insurance cover for all expatriate employees.
Complete HR & admin support
Online time-sheets, ERP, AIDA – our HR WhatsApp chatbot, toll free number 800-ECARE will provide easy access and round-the-clock support to the Regional Sales Head in Saudi Arabia.
Payroll services
TASC ensures timely payment of salaries to all our outsourced employees so they can continue to focus and be productive at work.
With easy access to all these services through one partner, it's clear now that partnering with a PEO seems like the right route for M.U.G. Group.
Curious to know what happens next? Here is the final part of their conversation...
📞 Call transcript (part 3/3) of an enquiry we received this Monday:
Fulana AlFulaniyya, CHRO, M.U.G. Group: But we could also just apply for a trade license in Saudi right? Instead of doing this?
Ines: Yes, of course you always have that option and we can potentially support you with that too. But, would you really want to lose time and make a heavy investment right away? TASC already has an established setup to support you with all your business needs in Saudi Arabia. We have the market knowledge and expertise, and our E-Care team will provide the best support to your Sales Head.
Fulana AlFulaniyya, CHRO: Hmm okay and what about your pricing? The most important bit.
Ines: Of course it's important. How about we meet for a coffee tomorrow and discuss it in detail?
Fulana AlFulaniyya, CHRO: Great, I'll pencil in 3-4 pm tomorrow for our meeting. There is a café in our office building. I'll see you then Ines.
Ines: Perfect, I'll see you tomorrow. Au revoir.
As you can expect, when they met for coffee yesterday, Ines and Ms. Fulana had a detailed conversation on the pricing and various benefits for M.U.G. Group in partnering with TASC as a PEO. One of the most important value propositions of a PEO is to enable its clients to focus on the core of their business while taking care of their non-core functions.
Did you know businesses that partner with PEOs are likely to grow 7 - 9% faster, have around 10 - 14% lower employee turnover and are 50% less likely to go out of business?[2]
This is because PEOs offer a broad array of benefits to their employees at lower costs and these benefits play a major role in helping businesses attract and retain employees. Due to the size of PEO companies and their large employee strength, the employees of small businesses (their clients) tend to enjoy benefits that they might not typically receive otherwise thus improving their productivity/motivation levels and lowering overall employee turnover.[3]
To recapitulate, here are the top 5 benefits for businesses in partnering with a PEO: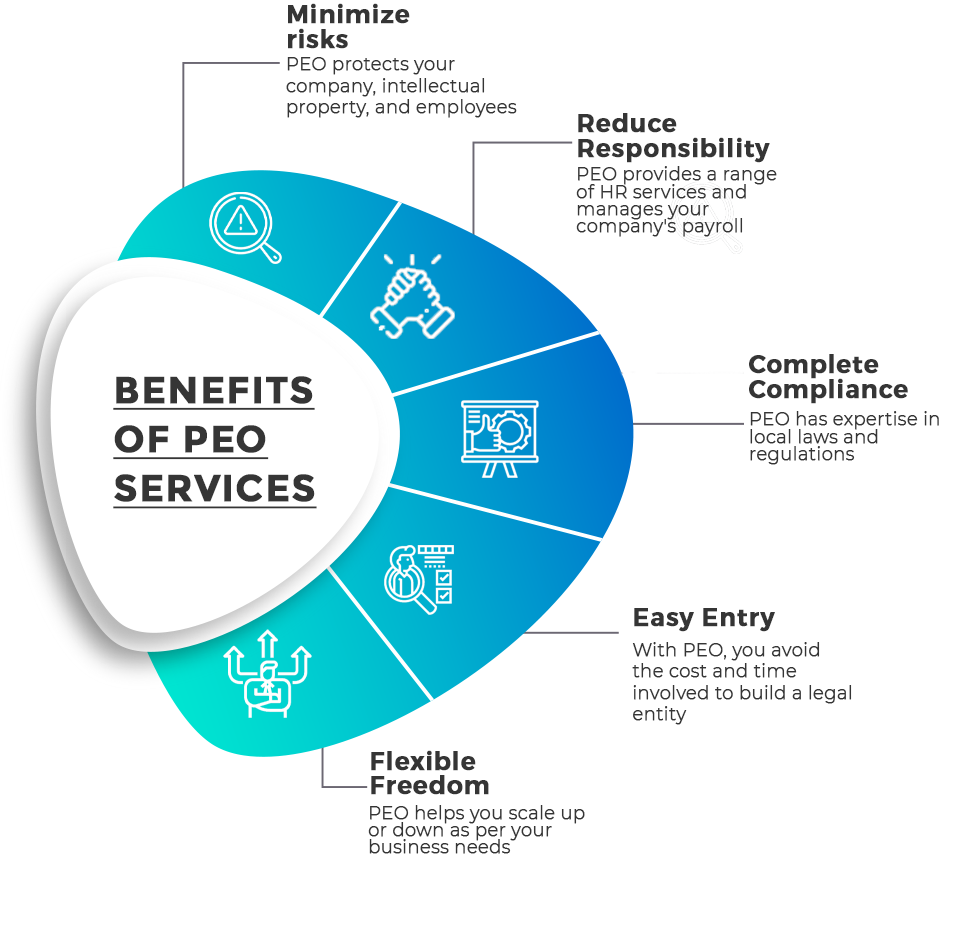 Hence, if you're looking to expand your business operations in a foreign market to eventually establish a physical presence or to just test the market with a few employees, you should opt for partnering with a PEO.
We hope this blog post provides a clear explanation on what a Professional Employer Organization is and its associated benefits. Ines will be glad to receive any questions you might have on PEO services and how TASC can be the perfect choice for your people solutions' partner - get in touch with her at ines@tascoutsourcing.com
References:
Lombardi, Britton and Ono, Yukako, Professional Employer Organizations: What are They, Who Uses Them, and Why Should We Care? (November 7, 2008). Economic Perspectives, Vol. 32, No. 4, 2008
Bassi, Laura and McMurrer, Dan, Professional Employer Organizations: Fuelling Small Business Growth, September, 2013.
Bassi, Laura and McMurrer, Dan, Professional Employer Organizations: Keeping Turnover Low and Survival High, September, 2014.